Rent or Buy Now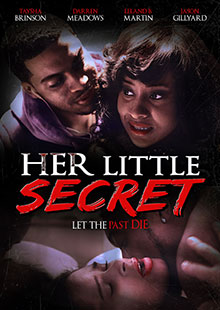 Her Little Secret
Own It November 16, 2021
Genre: Drama, Thriller
Runtime: 90 Minutes
UPC: MAV-5699, 824355569926
Storyline
When Lerrez finally manages to turn her life around, her dark past finds its way back in. How far will she go to keep HER LITTLE SECRET?
Produced By
Derrick Hammond, Thomas Freeman Jr., Louis Baxter Jr., Eric Reed
Directed By
Derrick Hammond
Cast
Taysha Brinson, Darren Meadows Jr., Leland B. Martin, David Haines
About the Crew
Derrick Hammond director and producer known for Men in Black 3 (2012), Call Time (2021), and Family Thanksgiving (2021).
Taysha Brinson is an actress known for King of Newark 2 (2018), Makeup X Breakup (2018-2019), and Her Little Secret (2021).
David Haines is an actor known for Ali (2001), Seven Pounds (2008), and American Justice (2015).