Rent or Buy Now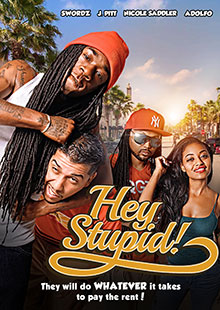 Hey Stupid
Own It August 31, 2021
Genre: Comedy
Runtime: 78 Minutes
UPC: 824355576528, MAV-5765
Storyline
Down on his luck, Vic, is fired from his job, and told to vacate his apartment for unpaid rent. His pot-smoking roommate, Leroy, has a plan for them to get the money for the rent, by any means necessary.
Produced By
Adolfo Latorre
Directed By
Adolfo Latorre
Cast
Adolfo Latorre, Swordz
About the Crew
Adolfo Latorre is an actor and director known for Twisted (2014), My Wife and Me (2020), and Truthless (2021).
Swordz is known for his raw, gritty lyrics and high-energy shows, he has built a reputation as one of the best live performers on the underground circuit.