Rent or Buy Now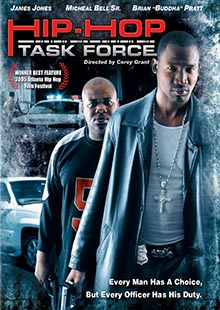 Hip Hop Task Force
Own It November 01, 2005
Genre: Action
Runtime: 100 Minutes
UPC: DVD: MAV-5155, DVD: 824355515527
Storyline
Chicago Detective, Kahill Jones is faced with the toughest challenge of his career when he is summoned to Baltimore by the FBI to assist them on their infamous Hip Hop Task Force unit. His assignment, go undercover into a Hip Hop record company as a music producer, to find and identify a highly sought after crime lord that is rumored to frequent the label.

During the assignment, Jones develops a close relationship with the CEO of the label Dajuan Manning. At the same time he falls in love with Manning's daughter only to discover that the criminal is someone closer then he was led to believe. This sudden twist in events begins to complicate his mission as these new found relationships are put into question. How do you betray a close friend and the woman you now love? Do you choose your badge or your heart?
Cast
James Jones, Michael Bell Sr., Brian "Buddha" Pratt, Ervin Green, Marcellus Shepard, Mia Speight, Derrick Fantroy
About the Crew
WINNER: Best Feature 2005 Atlanta Hip Hop Film Festival.
The first film exploring the infamous Hip Hop Taskforce Unit that monitors the music industry
Gallery
Gallery Images are Coming Soon.