Rent or Buy Now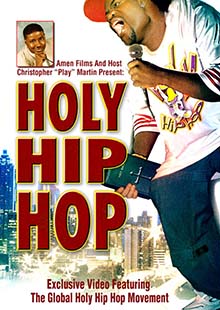 Holy Hip Hop
Own It March 21, 2006
Genre: Gospel
Runtime: 82 Minutes
UPC: MAV-5168, 824355516821
Storyline
Fasten your seatbelt and prepare to experience the explosive world of Spiritually-Enlightening Holy Hip Hop Ministry, Music and Entertainment Glorifying GOD!!! Director and producer Christopher Martin professionally known as 'Play' from the rap and acting duo Kid 'n Play is the feature's host and invites you to meet some of Holy Hip Hop's trail blazin artists and Ministers of the Gospel, who are a part of a movement that began in the late 1980's and thrives today worldwide as one of the fastest growing music genres today, with over 2000 active emcees and thousands of fans worldwide. Peep this video and see what these souled out souljahs for the LORD are doing to change the face of music for generations to come with powerful lyrics and bangin beats. A must see video for any ardent lover of music who wants to be tuned in to the cutting edge, whether you are within or outside the four walls of the Church. What you will experience is sure to make you bob your head and stomp your feet!!! Just when we thought we've seen it all, it's time to experience Holy Hip Hop where He, no doubt, Saved the Best for Last! James 5:20. Amen.
Directed By
Christopher Martin
Cast
Christopher "Play" Martin, Canton Jones, Sean Slaughter, Cross Movement, Sean Slaughter, Corey Red & Precise, Light-"The Flo Minister", Minister eDDie Velez, Bronte Velez, Shei Atkins, WAR Klick, Remnant, J. Silas, Lee Jerkins, GJ Hickman, Da T.R.U.
About the Crew
Hosted By Christopher 'Play' Martin of the infamous rap duo 'Kid N' Play'.
Featuring performances by top's top rated Holy Hip Hop stars.