Rent or Buy Now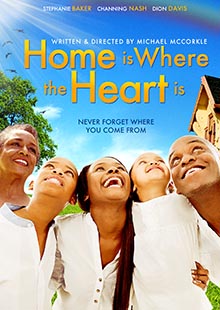 Home Is Where the Heart Is
Own It November 05, 2013
Genre: Inspirational, Family
Runtime: 150 Minutes
UPC: MAV-5437, 824355543728
Storyline
Home Is Where The Heart Is is an original story and contemporary Gospel stage play about the Anderson family and their strength that comes from the love they share for each other and their home. After living away from each other as they pursued their careers and own lives, three siblings, Angela, Ayana and Joseph, Jr. reunite when they return to their childhood home.
Produced By
Michael McCorkle
Directed By
Michael McCorkle
Cast
Joe Blunt, Audria P Crowder, Stephanie Baker, Dion Davis, Channing Nash, Deshaude Barner
About the Crew
Michael McCorkle is an Award Winning writer, producer and director of stage plays, theater and film.
A successor to stories such as 'A Raisin In The Sun', and 'Soul Food'.
Features Joe Blunt; former member of 'The Drifters'.
'Michael McCorkle's production features a standout performance and an incredible cast!' - Carlos Allen, Candidate for DC Mayor.
Gallery