Rent or Buy Now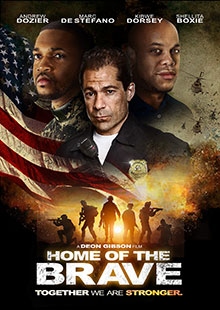 Home of the Brave
Own It January 14, 2020
Genre: Inspirational
Runtime: 104 Minutes
UPC: MAV-5629, 824355562927
Storyline
The lives of two young men collide in an unexpected way. A young war veteran returns home eager to rejoin his brother and two close friends at the after-school program they started to help kids in their community. While working to make their dreams of expanding the program and impacting their community a reality they are faced with challenges that could put their program at risk. A young cop makes efforts to connect with the people in the community as one of the good guys. Confident that he's prepared for anything, he jumps right in to protect and serve but it doesn't take long for the young officer to realize that maybe he's not as prepared as he thought. the stories of these two men unfold as we witness their paths cross and their lives changed because of it.
Produced By
Deon Gibon, Carrie Gibson, Jeremy Perez, Shellita Boxie, Tiffany Edwards, Lee Lee Lapointe, Jorge Diaz, Kibwe Dorsey
Cast
Kibwe Dorsey, Marc De Stefano, Andrew Dozier, Shellita Boxie
About the Crew
Deon Gibson is a writer, director, and producer known for producing/directing family inspirational films such as An Encounter with the Messiah, The Green Grass, and Church Folks.
Shellita Boxie is an actress known for being a stunt double for many shows and films like The Hunger Games: Mockingjay part 1 and 2, Captain America: Civil War, Girls Trip, and TNT's Claws, and many more.
Kibwe Dorsey is an actor known for The Investigator (2013), God Where are You? (2014), and The Turnaround (2017). As the Gasparilla International Film Festival 1st Ever 'Got Talent' Winner, Kibwe's Nominations include Creative Loafing 'Best Local Actor', 'Best Actor: Feature Film' by the International Christian Film Festival for 'The Turnaround' and 'Best Supporting Actor: Feature Film' by the International Christian & Music Festival for 'Home of The Brave'.
Gallery