Rent or Buy Now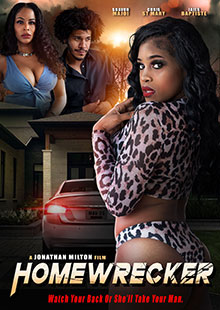 Homewrecker
Own It March 07, 2023
Genre: Thriller
Runtime: 79 Minutes
UPC: MAV-5932, 824355593228
Storyline
Married couple, Sam and Darlene, decide to rent out their extra room in their house to Eva, a friendly young woman. Suddenly people start to die and adultery starts to happen. Will Sam and Darlene survive the "Homewreckening"?
Produced By
Jonathan Milton
Directed By
Brandy Specks
Cast
Shavon Majoi, Jaies Baptiste, Christopher St. Mary
About the Crew
Jonathan Milton is a director and producer known for The Foreign Exchange Student (2018), The Perfect Wife (2019), Behind Closed Doors (2020) and 3 Way (2021).
Shavon Majoi is an actress known for The Perfect Wife 2 (2022), Homewrecker (2023), and H-Town (2023).
Jaies Baptiste is an actress known for Black Coffee (2014), Throwback Holiday (2018), and Hood Fetish (2022).