Rent or Buy Now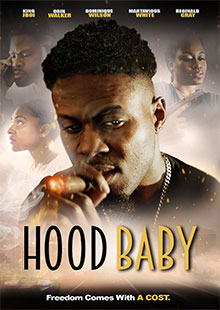 Hood Baby
Own It May 02, 2023
Genre: Crime, Drama
Runtime: 80 Minutes
UPC: MAV-5979, 824355597929
Storyline
As a successful, self-enterprising, young man, Jay is pulled back into a lifestyle he no longer wants to live shortly after moving to a new city. His efforts to sustain an income as he finds his way, by maintaining relationships with his childhood friends, ultimately lead to his incarceration. After a business associate unknowingly brings an undercover into their operation, Jay resorts to unfamiliar tactics that come at a cost to everyone, including himself.
Cast
King JBoi, Orin Walker, Dominique Wilson, Martavious White, Reginald Gray
About the Crew
Music Artist, King JBoi, surfaced recently in 2019 on the music scene with his single titled, "Really Impressed." After having made a name for himself in the streets of Memphis, where he was born and raised, he used his real-life experiences to influence his passion for the art of rap and hip-hop music. He founded an organization by the name of L.i.E (Loyalty is Everything) in 2006 and later founded King JBoi INC in 2020. Using the same principles and organizational values, he later evolved that organization into L.i.E. Entertainment in 2010, and currently operates under both umbrellas (L.i.E Entertainment & King JBoi INC). King JBoi also has various businesses and a 501c3 nonprofit for disadvantaged athletes in urban communities. Over the past several years, he has evolved tremendously, as he was castes for an acting role in 2021. This led to him developing his film and production company Hood Baby Films. There is much to be unveiled with King JBoi!