Rent or Buy Now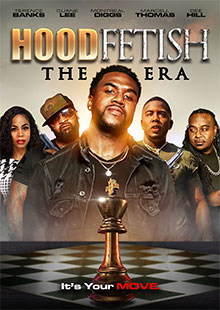 Hood Fetish: The Era
Own It October 18, 2022
Genre: Crime, Drama
Runtime: 77 Minutes
UPC: MAV-5847, 824355584721
Storyline
Sometimes the environment we so desperately want to stay away from becomes an unstoppable addiction. Tracy McDavis finds this out the hard way, when everything he grew up protected from, comes full circle. His determination is put to the test when his older brother, Viper, the owner of Dallas' hottest record label and an underground drug lord, is murdered, along with their mother. Everything Tracy didn't want to be a part of is now the thing that drives him.
Produced By
Latroya Peters Johnson
Directed By
Johnnard Harper
Cast
Montreal Diggs, Duane Lee, Marcell Thomas, Terence Banks, Dee Hill
About the Crew
Johnnard Harper is a writer, director, and producer known for Captured (2018), Behind Closed Doors (2020), and My Biggest Fan (2022).
Montreal Diggs is an actor known for Black Diamond (2019), Love & Drugz 2 (2020), and Heavy (2021).
Dee Hill is an actress known for Love & Coffee (2020), Dilemma (2022), and Hood Fetish (2022).
Reyna Janelle is an actress known for Fair Play (2022), The SZN (2022), and Hood Fetish (2022).