Rent or Buy Now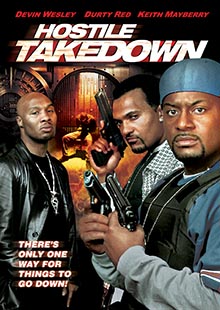 Hostile Takedown
Own It October 18, 2005
Genre: Action
Runtime: 94 Minutes
UPC: MAV-5116, 824355511628
Storyline
9 years ago Alex, a former cop, lost his partner Dennis, when he was assassinated execution style to a vicious murderer. Unable to cope, Alex resigns from the force and finds himself dealing with past ghosts and the guilt he feels for his fallen partner. But when a madman takes over a local mall where Alex is shopping, and threatens the lives of innocent victims, Alex is forced back to his former duties and quickly learns the madman has ties to his slain partner. Will justice be served? Or will this 'Hostage Takedown' lead to a deadly sequence of events to avenge an old murder?
Directed By
Gill C. Carpenter
Cast
Devin Wesley, Durty Red, Dajae Johnson, Keith Mayberry
Gallery
Gallery Images are Coming Soon.