Rent or Buy Now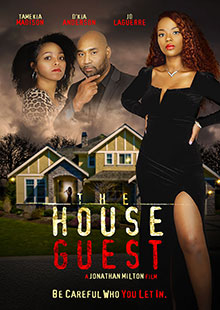 The House Guest
Own It February 02, 2021
Genre: Thriller
Runtime: 82 Minutes
UPC: MAV-5667, 824355566727
Storyline
A young married couple moves in a female childhood friend who the wife hasn't seen in years. Slowly the house guest starts seducing the ones around her and people start dying. Can anyone stop her before it's too late?
Produced By
Jonathn Milton, Johnnard Harper, O'Kia Anderson
Directed By
Jonathn Milton
Cast
Tamekia Madison, D'Kia Anderson, JD Laguerre 
About the Crew
Jonathan Milton is a writer, director, and producer known for The Foreign Exchange Student (2018), The Perfect Wife (2019), and Behind Closed Doors (2020).
D'Kia Anderson is an actress known for TV roles such as Lethal Weapon (2017), Bosch (2017), Greys Anatomy (2018), and movies such as The Undershepherd (2012) and No More Mr. Nice Guy (2018).
JD Laguerre is an actor known for A Gangland Love Story (2010), Rent a Car (2010), Bedfellas (2017), and Do's and Don'ts of Dating (2020).
Gallery