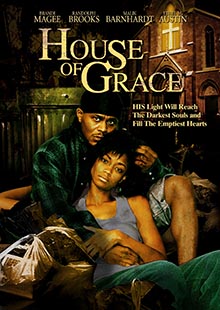 House of Grace
Own It May 02, 2006
Genre: Drama
Runtime: 83 Minutes
UPC: MAV-5174, 824355517422
Storyline
A homeless couple, Keisha and Pookie, find themselves down and out, hooked on crack cocaine and living on the street. Choir music from the church across the street reminds Keisha of her younger years as a singer and she looks to the church for inspiration. With the help of the church's prayer group and the pastor, she is healed and begins to get clean. Meanwhile, her proud man, Pookie, spirals further down into street poverty and crack addiction. But, when Pookie steals Keisha's purse in final desperation, he finds a special memory in the purse, which breaks his pride and his heart. His spirit is awakened, and he goes to the church to hear Keisha sing and find redemption for his own soul.
Directed By
Larry Flash Jenkins
Cast
Brandi Magee, Randolph Brooks, Malik Barnhardt, Ethel M. Austin, Larry "Flash" Jenkins
About the Crew
Inspirational Films appeal to all audiences The Christian market is the fast growing genre today
Gallery
Gallery Images are Coming Soon.