Rent or Buy Now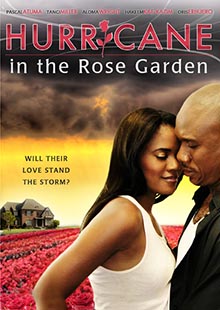 Hurricane in the Rose Garden
Own It October 20, 2009
Genre: Family, Drama
Runtime: 84 Minutes
UPC: MAV-5311, 824355531121
Storyline
When a difference in culture leaves his Nigerian family and his headstrong bride at odds Joseph is left to smooth things over. But now an unexpected visit by his mother leaves everything in complete disarray. Will her demand for a grand child be the last straw that forces this newlywed couple to break family ties?
Cast
Pascal Atuma, Tanji Miller, Aloma Wright, Hakeem Kae Kazim, Karri Turner, Oris Erhuero, Tanjareen Martin
About the Crew
Pascal Atuma - Only in America, My American Nurse
Tangi Miller - Madea's Family Reunion, 'Felicity', Love... & Other 4 Letter Words
Aloma Wright 'Scrubs', The Gospel, Love... & Other 4 Letter Words
Oris Erhuero - 'The Adventures of Sinbad', Sometimes in April
Hakim Kae Kazim '24', Pirates of the Caribbean, Hotel Rwanda
Tanjareen Martin- Johnson Family Vacation, Love for Sale
Director Ime N. Etuk was the assistant director on Without a Paddle: Nature's Calling, The Longshots, and Hair Show
In the vein of Tyler Perry, comes Hurricane in the Rose Garden, an excellent filmed movie with rising stars.