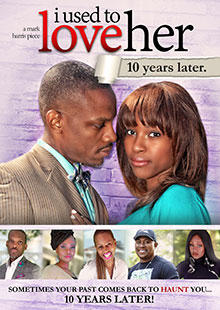 I Used to Love Her 10 Years Later
Own It November 02, 2017
Genre: Drama
Runtime: 70 Minutes
UPC: MAV-5559,
Storyline
I Used to Love Her 10 years later takes us into the lives of Ramadan and Simee. They're now corporate executives of one of the most powerful independent labels in the music business. However, the major labels are on a mission to destroy all independent labels because they feel completion is a sin. They give Ramadan the option of selling his company to them or face death. These six episodes are about murder, sex, scandal and betrayal.
Cast
Mel Robinson, Tiffany Addison, Simeon Henderson, Corey Hendrix, Jose Santiago
About the Crew
Simeon Henderson (Terrance) has worked on blockbuster hits such as 'Barbershop II', 'War of the Worlds', 'Even Trade', 'Caught in the Game', and a host of other movies and national commercials.
Mel Roberson - Just seen in 'Jump In: The Movie'.
Gallery
Gallery Images are Coming Soon.