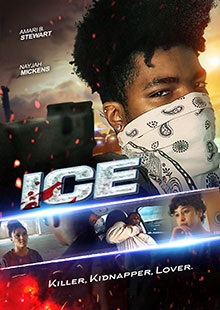 ICE
Own It December 05, 2023
Genre: Drama
Runtime: 74 Minutes
UPC: MAV-6021, 824355602128
Storyline
After witnessing his parents murdered as a child, Christian exacts revenge against their killers. He finds himself at a crossroads after developing feelings for the gangleader's daughter.
Produced By
Frank E Jackson Jr., Walda Jacobs, Natasha L. Malone
Directed By
Natasha L. Malone
Cast
Amari B. Stewart, Nayjah Mickens
About the Crew
Frank E. Jackson Jr. is a director, writer, and producer known for Torn (2010), Dead Money (2012), Raven (2022), Collide (2022), and White Lies (2022).
Amari B. Stewart is an actor known for Ruin Agency (2019), Bullied (2023), and 12:46 (2023).