Rent or Buy Now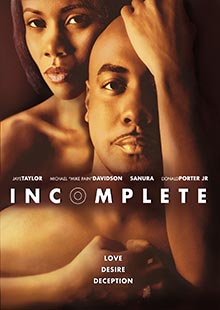 Incomplete
Own It February 11, 2014
Genre: Romantic, Drama
Runtime: 89 Minutes
UPC: MAV-5426, 824355542622
Storyline
Incomplete is a captivating story of one woman's longing to complete her family through love and desire but unearths an elusive weave of deception. It's a riveting tale of trust, betrayal and the fine lines that divides when secrets are hidden and shared with strangers.
Directed By
Charles Farmer, Jr., Abe Vilchez-Moran
Cast
Jaye Taylor, Michael "Mike Pain" Davidson, Sanura, Donald Porter Jr.
About the Crew
'Fabulous film and a surprise ending..didn't see that coming. I really enjoyed it'. - Dionne McIntyre- Professor, NSU.
'One of the BEST Movies I've ever seen.I've cried, laughed and the surprises ending, WOW!' Khalil Rasul Malik-VP Mktg/21st Century Communications.
'Charles Farmer Jr. is a Brilliant Writer' - Manswell Peterson.
'Movie Plot and story line was awesome!' - Quincy Carr - Comedian.
'Great! Excellent! Powerful!' - Mark Harris - Producer.
'A must see! Buy it! Borrow it! Just Support it! - Michael Ellison.
'Don't do it to yourself man and miss this film'. - Deontate Noel.
'Great dynamic characters in the story; enjoyed the twist at the end!A romantic Blockbuster'. - Stephen Pullen - Old Dominion University.
'Fun and wonderful film, I really enjoyed it'. - Theressa Brown - 95.7 WVKL.
'It's guaranteed to keep you on the edge of your seat. and talking about an emotional rollercoaster. Yes!' - Poetikk Justice - Talk Radio Personality.
'This is a great story about how complicated relationships can be. Incomplete pulls you in and doesn't let you go'. - Marlon Hargrave.
Gallery