Rent or Buy Now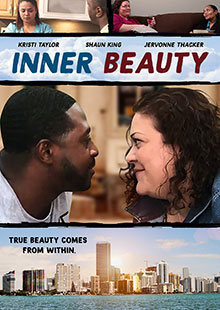 Inner Beauty
Own It February 20, 2018
Genre: Romantic, Drama
Runtime: 75 Minutes
UPC: MAV-5545, 824355554526
Storyline
Claire has been dealing with low self-esteem issues about her outer body since she was a child because of the mental and physical abuse she witnessed growing up. She has an ongoing battle with obesity and does not realize her self-worth. In Claire's case, she has had difficulty letting go of her past demons and therefore it causes her to have very low self-esteem and she becomes depressed and goes to a very DARK place. Claire meets a man that tells her she is beautiful inside and out and that greater beauty comes from within. Will Claire learn to love her self?
Produced By
Jervonne Thacker & Russell Thacker
Directed By
Jervonne Thacker
Cast
Kristi Taylor, Shaun King, Jervonne Thacker
About the Crew
Kristi Taylor is an actress known for Salem (2015), Murder Calls (2017), 3AM Live (2017).
Jervonne Thacker is a producer, director, and actress known for The Shephards (2016), ATL Homicide (2018) and the Perfect Prayer (2018).
Shaun King is an actor, known for Nocturnal (2018), D.A.T. Life Decisions After Temptation (2016) and The Power of a Praying Grandmother (2016).
Gallery