Rent or Buy Now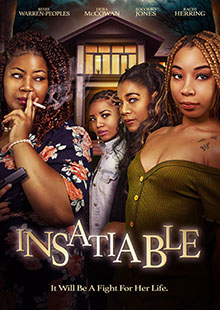 Insatiable
Own It January 24, 2023
Genre: Thriller
Runtime: 82 Minutes
UPC: MAV-5908, 824355590821
Storyline
When Danielle's family put her out for being rebellious, she is offered refuge at the best friend Tomeka's house with her mother. Things quickly go from a helping hand to a game of survival as Tomeka's mother comes up with a plan to help her family with the money issues that have helped them in the past. And all those who are not blood-related are in grave danger. Will Danielle let history repeat itself, or will she be in for the fight of her life?
Produced By
Bobby M. Peoples & Renee Warren-Peoples
Directed By
Bobby M. Peoples, Renee Warren-Peoples
Cast
Socorro Jones, Dejia McCowan, Rachi Herring, Renee Warren-Peoples
About the Crew
Bobby Peoples is a producer, director, and writer known for Taboo (2016), Fixation (2018), Domestic Warfare (2020), and Dirty Little Secret (2022).
Rachi Herring is an actress known for Only girl in the world (2021), Pimpstress (2022), and Coming Home for Christmas (2022).