Rent or Buy Now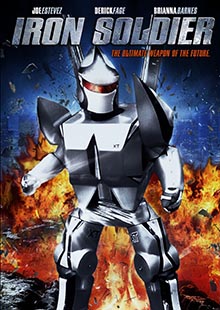 Iron Soldier
Own It September 06, 2011
Genre: Action
Runtime: 76 Minutes
UPC: MAV-5370, 824355537024
Storyline
Scientists have created a robot that promises to be a powerful weapon for the U.S. Military's combat. However, a group of renegades break into the base in hopes to steal the metal solider. Now, the U.S. Armed Forces must devise a plan to prevent the robot from ending up in the hands of a foreign power and put a stop to the enemy from taking power over America.
Cast
Joe Estevez, Derick Fage, Brianna Barnes, Jasmine Elizabeth Bowen
About the Crew
In the vein of mega hit IRON MAN.
Joe Estevez - younger brother of Martin Sheen and uncle of Emilio Estevez and Charlie Sheen.
Derick Fage - named one of Ottawa's top 50 personalities by Ottawa Life Magazine, co-host of 'Daytime Ottawa' on Rogers TV 22.
Brianna Barnes - successful Canadian model and TV-personality, host of the world famous travelling show 'Globe Trekker'.