Rent or Buy Now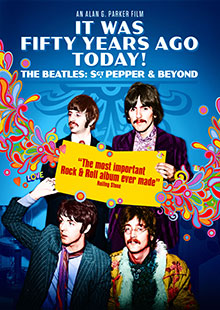 It Was Fifty Years Ago Today! The Beatles: SGT Pepper and Beyond
Own It February 07, 2023
Genre: Documentary
Runtime: 119 Minutes
UPC: MAV-5962, 824355596229
Storyline
IT WAS FIFTY YEARS AGO TODAY! THE BEATLES: SGT. PEPPER & BEYOND examines the twelve months (Aug 1966-Aug 1967) that would arguably be the most crucial in the band's career, a year in which they stopped being the world's number one touring band and instead became the world's most innovative recording artists, pushing the boundaries of what could be achieved in the studio.
Produced By
Reynold D'Silva, Alexa Morris
Directed By
Alan G. Parker
Cast
Pete Best, Tony Bramwell, Hunter Davies
About the Crew
Alan G Parker started out his career in the music industry at the age of 20, following a few years as a band manager/promoter in a remote part of Lancashire! He moved to London in 1985 where over a period of almost 20 years he was, at one time or another, a press officer, a writer (18 books published to date) and the project co-ordinator in back catalogue at EMI Records, working with artists like; Stiff Little Fingers, Buzzcocks, The Stranglers, Sex Pistols, Slade, The Ramones, Blondie, Big Country, The Alarm, The Who, Whitesnake, UFO, The Mighty Wah!, Spear of Destiny/Theatre of Hate, Terrorvision, The Almighty, Monty Python, The Carry On Team, UFO, Saxon, Whitesnake & The Jam.
Pete Best, Known to his female fans as 'mean, moody and magnificent', he took the drum seat for The Beatles in August 1960 at the request of Paul McCartney. For the next two years he endured the struggle for the band to find success, living in rough conditions for their stints playing in Hamburg and their constant set-backs in trying to get a recording contract. In circumstances that have never been fully explained Pete was sacked from the group in August 1962 on the verge of their major breakthrough. In the film he reveals his secret connection with the Sgt. Pepper album.
Tony Bramwell is integral to the Beatles story. He grew up with the band and went on to work with Brian Epstein at NEMS and then graduated to head Apple Films then later becoming CEO of Apple Records. His memoir Magical Mystery Tours — My Life With The Beatles is one of the most popular books amongst fans and followers of the band. Paul McCartney is on record as saying, "If you want to know anything about the Beatles ask Tony Bramwell, he remembers more than I do". Tony gives a surprising account in the film about what the recording sessions for Sgt. Pepper were really like.