Rent or Buy Now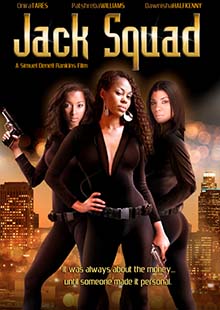 Jack Squad
Own It May 19, 2009
Genre: Action
Runtime: 128 Minutes
UPC: MAV-5306, 8-24355-53062-9
Storyline
Looking for some quick cash three women band together and decide to drug and jack every rich man they can find. Their plan quickly turns profitable, but the girls soon learn that even the best cons eventually unravel. Will they be able to find a way out before it is too late?
Directed By
Simuel Rankins
Cast
Dawnisha Halfkenny, Onira Tarès, Patshreba Williams
About the Crew
The Jack Squad trailer has over 2,000 views and a five star rating on Youtube.
Carol Warrick- Strange Relationships, When Doves Cry
Ro Brooks- Champion Road, Make It Rain
Onira Tares- Grapes On A Vine, B.A.M.
Featuring a cameo by Ecstasy, a member of the groundbreaking hip hop group Whodini
Promoted on Facebook and Myspace
Gallery
Gallery Images are Coming Soon.