Rent or Buy Now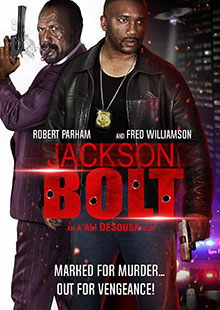 Jackson Bolt
Own It August 07, 2018
Genre: Action
Runtime: 81 Minutes
UPC: MAV-5556, 824355555622
Storyline
In this tale of revenge and redemption, Jackson Bolt is an emotionally distraught detective who is being treated by the department psychologist. To make matters worse, Jackson's wife Darla is having an affair with his partner. When his partner gets murdered, Jackson realizes he's been setup by his old kickboxing promoter. Fists and bullets fly as Jackson tries to clear his name, save his wife from a treacherous pimp turned hitman, and defeat the only fighter to beat him.
Produced By
Robert Parham and James E. Meyer
Directed By
a'Ali DeSousa
Cast
Robert Parham, Fred Williamson, James E. Meyer
About the Crew
Robert Parham is a former five-time World Kickboxing Champion and former four time Sport Karate Champion turned actor/producer known for Bad Faith (2010), Fist 2 Fist (2011), Bad Fellaz (2015).
James E. Meyer is an actor and writer, known for Blood Money (2003), The Wedding (2010) and Jackson Bolt (2018).
Fred Williamson is a former Oakland Raiders/Kansas City Chiefs football star who rose to prominence as one of the first African American male action stars of the 'blaxploitation' genre of the early 1970s, who has since gone on to a long and illustrious career as an actor, director, writer, and producer. He has been in movies such as Starsky & Hutch (2004), Last Ounce of Courage (2012), Being Mary Jane (2017).
Natasha Dee Davis is an actress and producer, known for Pervasive (2014), Guardian (2017) and Dark Memories (2015).
Gallery