Rent or Buy Now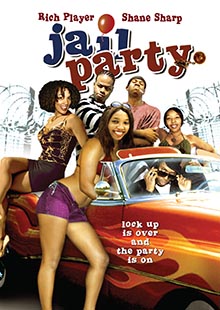 Jail Party
Own It August 09, 2005
Genre: Comedy
Runtime: 80 Minutes
UPC: DVD: MAV-5123, DVD: 824355512329
Storyline
In the spirit of "Bamboozled" and "Fear of a Black Hat", "Jail Party" takes a satiric look at the urban film genre and yanks the curtain down to reveal that "hood" movies are all the same. Fresh out of prison, Yusef Porter (Shane Sharp) has a new outlook on life. In short, he wants to "get out of the hood" and take his longtime girlfriend (Antonette Terry) with him. He hopes to tell her his big plans at his 'coming home from jail party'. Unfortunately, jealous drug dealers, low-level thieves, undercover cops, and devastating secrets all collapse on him, making this a party he'll never forget.
Directed By
Donnie Leapheart
Cast
Shane Sharp, Rich Player, Antonette Terry, Trina Braxton, Christopher Lobvan, and Rashaun Murdaugh
Gallery
Gallery Images are Coming Soon.