Rent or Buy Now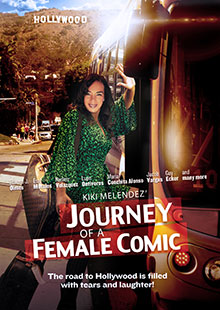 Journey of a Female Comic
Own It December 10, 2019
Genre: Documentary
Runtime: 70 Minutes
UPC: MAV-5639, 824355563924
Storyline
The film chronicles the ups and downs of a Hollywood actress/comedian as she struggles to make it in Tinsel Town. It's a comical portrayal of what it takes to achieve success in a town where people confuse fame with greatness, with an all-star cast of some of the greatest Latino actors in Hollywood.
Produced By
Gloria Ortiz, Jenny Alonzo, David Albert Pierce
Directed By
Erick Crespo and Kiki Melendez
Cast
Kiki Melendez, Esai Morales, Edward J. Olmos, Lupe Ontiveros, Maria Conchito Alonso, Nadine Velasquez, Jacob Vargas
About the Crew
Kiki Melendez was born in New York City, New York, USA. She is a producer and actress, known for Journey of a Female Comic (2017), Cattle Call (2006) and Locos y Contentos (2014), and Hot Tamales Live (2003).
Maria Conchita Alonso is an actress who made her Hollywood film debut in Paul Mazursky's Moscow on the Hudson (1984), opposite Robin Williams. She also starred in movies such as Touch and Go (1986), Extreme Prejudice (1987), The Running Man (1987), Colors (1988), Vampire's Kiss (1988), Predator 2 (1990) and The House of the Spirits (1993). In 1995, she was playing Aurora/Spider Woman in a Broadway production of 'Kiss of the Spider Woman', making her the first South American woman to star on the Great White Way.
Esai Morales is an actor and co-founder of the National Hispanic Foundation for the Arts, created to advance the presence of Latinos in the media, telecommunications and entertainment industries. Television credits comprise the Emmy award-winning series NYPD BLUE (ABC) Resurrection Blvd (Showtime) American Family (PBS) Miami Vice (NBC) Fame (NBC) Law and Order: SVU (NBC) The Burning Season: The Chico Mendes Story (HBO) Vanished (FOX) Burn Notice (USA) Jericho (CBS) Caprica (Syfy) Fairly Legal (USA) Criminal Minds (CBS).
Edward J. Olmos is an actor best known for his role as Lt. Martin Castillo in the NBC television series Miami Vice (1984) (1984-1989), Olmos has been seen in numerous film and television productions. He received an Academy Award nomination for Best Actor for his starring role in Stand and Deliver (1988).