Rent or Buy Now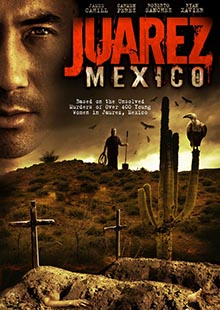 Juarez, Mexico
Own It January 22, 2008
Genre: Thriller
Runtime: 81 Minutes
UPC: MAV-5218, 824355521825
Storyline
Since 1993 more than 400 girls have been killed in Juarez, Mexico, and their bodies dumped in ditches. As of today, nobody knows who is responsible for these horrific deaths. Private investigator, Johnny Cash, goes undercover looking for a missing girl in Juarez and learns the shocking truth behind the murders.
Cast
James Cahill, Carmen Perez, Roberto Sanchez, Vivian Gray, and Ryan Xavier
About the Crew
Loosely based on the real life murders in Juarez, Mexico still making headlines
Similar to 'Bordertown' starring Jennifer Lopez and Antonio Banderas
An intense Latino thriller starring Carmen Perez (A Man Apart) and Roberto Sanchez (2 Fast 2 Furious).