Rent or Buy Now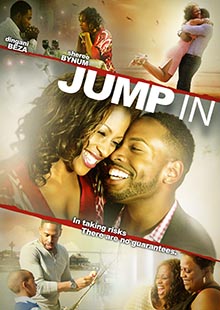 Jump In
Own It September 22, 2014
Genre: Romantic, Drama
Runtime: 82 Minutes
UPC: MAV-5473, 824355547320
Storyline
Troy Alexander returns to her roots, armed with a plan, to pass the bar and start her own practice. Although, her love of the law takes a back seat to her young son,Jordan, it provides an escape from realities. Troy is convinced she doesn't need love. She's content and love is a distraction, until her friends, Tarin and Camryn stumble upon Malik Bond, a middle school math teacher. Her friends plan a meeting and all doesn't go according to plan. Troy realizes that what Malik lacks in his wallet, he makes up for it in other areas. Sparks fly and life seems perfect... Then circumstances bring her well-thought plans to a halt. Her life flashes before her eyes, just as love lands at her door. Astounding revelations affecting the family in different ways, when the unthinkable happens.
Produced By
Kimberly D Conner
Directed By
Kimberly D Conner
Cast
Sheree Bynum, Karen Malina White, Michael Higgenbottom, Kevin Craig West, Dingani Beza
About the Crew
Actress Karen Milana White has appeared in several TV shows including, The Crosby Show, Fresh Prince of Belair, and A Different World.
Finalist in the Hollywood Black Film Festival Storyteller Competition.
Finalist in the Urban Media Makers Short Film Screenplay Competition.
Semi-finalist in the Creative Screenwriting Magazine AAA Screenwriting Competition.
Gallery