Rent or Buy Now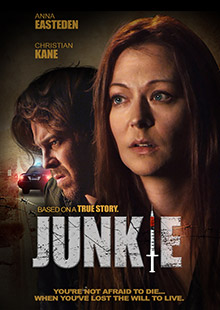 Junkie
Own It December 17, 2019
Genre: Thriller
Runtime: 106 Minutes
UPC: MAV-5617, 824355561722
Storyline
The small town of Talutha County is overrun with rampant drug use and drug dealers loitering in every alleyway. Sheriff Corbin carries out daily drug raids in an effort to clean it up, citing that local drug dealers are only the body of a larger snake - he's looking for the head. June Taylor has fallen prey to the drug windfall, and has hit rock bottom - selling her body for her next fix. Her brother Xander Taylor has made it his mission in life to save his sister from herself, so his first step is to stop the local dealers from selling to her. He confronts one of them, and shortly afterwards he goes missing. June leans on Sheriff Corbin for help and he does offer a warm shoulder. He sends out all available deputies to work on locating Xander and asks June to rest, clean up, and let him do his job. She can't seem to stop herself from taking matters into her own hands and manages to get herself into a lot of trouble. Even worse, she's causing a distraction for the deputies who are supposed to be focused on finding her brother. Realizing that she is too much of a mess to help anyone, she trades her needle in for a gun and sparks an explosive conflict with the local cartel.
Produced By
Shawnda Christiansen, Jason F. Knittle, Tim Russ
Cast
Christian Kane, Anna Easteden, James Duval, Eve Mauro
About the Crew
Christian Kane is an actor known for Summer Catch (2001), Just Married (2003), Taxi (2004), Not Since You (2009), and starred in TNT's The Librarians (2014-2018).
James Duval is an actor known for Independence Day (1996), Gone in 60 seconds (2000), Donnie Darko (2001), Chasing Ghosts (2005), and Tom Holland's Twisted Tales (2014).
Tim Russ is a director and actor known for playing Tuvok/Tulak on Star Trek: Voyager (1995-2001), Live Free or Die Hard (2007), iCarly (2007-2012), and Pen15 (2019).
Eve Mauro is an actress known for Sorority Party Massacre (2012), Dystopia (2019), and Age of the Living Dead (2018-2020).
Shawnda Christiansen is a writer and producer best known for her novel, Junkie: Broken Wings which is the true story that inspired the film Junkie. It was released on Amazon in 2018 and immediately became the #1 new release in multiple categories: Psychology of Suicide, Substance Abuse, Drug Dependency Recovery, Sexual Abuse and was in the top 100 of 12 step programs all within 48 hours of its release.
Gallery