Rent or Buy Now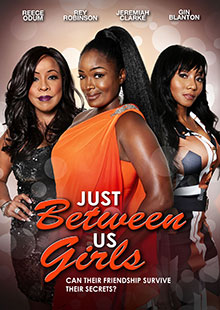 Just Between Us Girls
Own It December 06, 2022
Genre: Drama
Runtime: 111 Minutes
UPC: MAV-5900, 824355590020
Storyline
Amber, Naomi and Morgan have been close friends since high school. Now twenty years into their friendship, a typical girls' night out becomes anything but when loyalties are compromised, dark secrets are revealed, and traumatic truths are told.
Produced By
Gin Blanton, Jouet Daniels, Tania Felix, Toni Nalle
Cast
Reece Odum, Gin Blanton, Jeremiah Clarke, Rey Robinson
About the Crew
Gin Blanton is an actor, director, and producer known for Deceptions of Love (2013), The Hills (2017), and Chloe's Pocketbook Diary (2022).
Reece Odum is an actress known for The Vampire Diaries (2017), Ambitions (2019), Super Turnt (2022), and Saints and Sinners (2016-2022).
Jeremiah Clarke is as actor known for Chloe's Pocketbook Diary (2022), A Good Cop (2021-2022), and Love After (2022).