Rent or Buy Now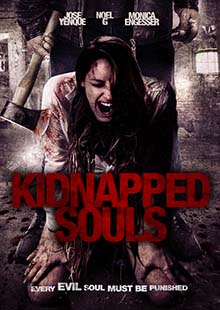 Kidnapped Souls
Own It May 06, 2014
Genre: Thriller
Runtime: 85 Minutes
UPC: MAV-5463, 824355546323
Storyline
LA detectives are on the hunt for a mysterious serial killer who kidnaps and kills his victims. Their hopes of catching the killer are slim, as the detectives can't find a single shred of evidence. They finally get a break on the case when one surviving victim escapes from the killer's deadly clutches. In this chilling thriller, watch events unfold as the killer exposes the dark secrets of his victims and why he kidnaps their souls.
Cast
Noel G. (Gugliemi), Jose Yenque, Monica Engesser, Neil Brown Jr.
About the Crew
Actor Noel Gugliemi (Det. Miller), portrayed Felipe on AMC's The Walking Dead. Also known from his roles in theatrical and TV hits such as Training Day, The Fast and the Furious, Bruce Almighty, The Dark Knight Rises, and NYPD Blue.
Jose Yenque's (Det. Ramos) most recognizable role was in the Steven Soderbergh film 'Traffic' (2000) where he portrayed a corrupt Tijuana soldier known as the 'Torturer' opposite Benicio Del Toro.
Yenque is one of the Top 10 Most Attractive Latino Bad Guys in last year's poll.
Neil Brown Jr. has worked on blockbuster hits such as Battle Los Angeles and Fast and Furious, and numerous hit shows such as The Walking Dead, NCIS and Castle.
Gallery