Rent or Buy Now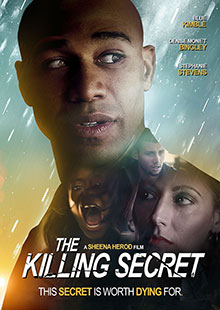 The Killing Secret
Own It August 04, 2020
Genre: Thriller
Runtime: 65 Minutes
UPC: MAV-5646, 824355564624
Storyline
The outside looking in, Daniel and his wife Brenda appeared to have it all together, but smiles can be deceiving, and kisses can be poison. A healthy marriage is difficult to attain and destroy, but not when secrets are intertwined in the vows, especially one that can kill.
Directed By
Sheena Herod & Wardell Richardson
Cast
Blue Kimble, Stephanie Stevens, Denise Monet Bingley
About the Crew
Sheena Herod is a Filmmaker, writer, director, author, and social activist who continues to revolutionize the entertainment industry with dynamic and relevant content while actively engaging in the nonprofit sphere. Sheena has worked with entertainment talent such as actress Karyn Parsons, Grammy award winning artist, Neyo, and renowned choreographer and author, Darrin Henson. Sheena launched Tapoo Productions for the purpose of developing passionate producers, filmmakers, editors and other industry professionals.
Blue Kimble is an ex professional football player turned actor known for What Love Will Make You Do (2015), Greed: Heavy is the hand (2018), The Bobby DeBarge Story (2019), Craig Ross Jr.'s Monogamy (2018-2019), and Tyler Perry's Ruthless (2020).
Denise Mone't is an actress and assistant director, known for Hidden Agenda (2013), Tales of the Lockwood Sisters (2016) and The Break of Dawn (2019).
Erica Page is an actress known for Mr. Right (2015), First Impression (2018), Last Call (2019), and OWN'Äö?Ñ?¥s Ambitions (2019).
Gallery