Rent or Buy Now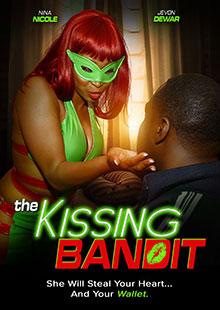 The Kissing Bandit
Own It October 18, 2022
Genre: Comedy, Drama
Runtime: 118 Minutes
UPC: MAV-5873, 824355587326
Storyline
After some bedroom issues, Dale Saunders, get kicked to the curb by his wife. One stormy night to his delight, a gorgeous redhead in distress shows up at his new pad and rekindles his lost lust. While she promises to fulfill his secret sexual fantasy, she prowls at night making the same promise to other men she seduces and rips-off with the help of an accomplice. When the media warns the public, Atlanta is swept with Kissing Bandit fever.
Produced By
Shelley Lynch, Honey Rothschild
Directed By
The Horne Brothers
Cast
Nina Nicole, Jevon Dewar
About the Crew
Nina Nicole is an actress known for The Sun will Rise (2006), Life 101: Angel's Secret (2009), and Between Love and a Hard Place (2012).