Rent or Buy Now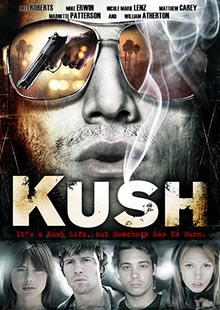 Kush
Own It June 03, 2008
Genre: Action
Runtime: 90 Minutes
UPC: MAV-5271, 824355527124
Storyline
A group of young drug dealers make the biggest mistake of their lives when they front a 10-pack of Kush to a risky crack-head. Burned out of thirty thousand dollars they take matters into their own hands and scheme to kidnap the crack-head's teenage brother. But their perfect drug dealing, money making life quickly falls apart and relationships, even those bound by time and family, are quickly destroyed.
Directed By
York Shackleton
Cast
Bret Roberts, Nicole Marie Lenz, Mike Erwin, Marnette Patterson, Matthew Carey, James DeBello, James Duval, Michael Bellisario, William Atherton, Nick Annunziata
About the Crew
Kush was nominated for Best Drama at the High Times Stony Awards
Nick Annunziata- HBO's 'The Sopranos'
William Atherton- The Girl Next Door, The Last Samurai, Die Hard, Die Hard 2, Ghost Busters
Michael Bellisario- CBS series 'Jag'
Matthew Carey- Fox series '24', Old School
James DeBello- Scary Movie 2
James Duval- Gone in Sixty Seconds, Independence Day, Won and American Indian Movie Award for Best Actor in The Doe Boy at the 2001 American Indian Film Festival, Won a New American Cinema Award for The Weekend at the 1999 Seattle International Film Festival
Website: http://kushthemovie.com/
Promoted on Maverick's corporate Facebook page
Gallery
Gallery Images are Coming Soon.