Rent or Buy Now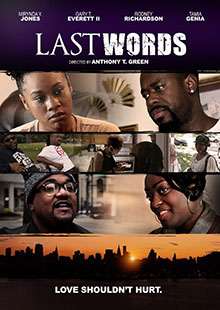 Last Words
Own It March 19, 2019
Genre: Thriller
Runtime: 73 Minutes
UPC: MAV-5586, 824355558623
Storyline
For years Tiffany has been wanting to leave her relationship, but she is terrified on how her abusive boyfriend Mike will react. Money and stress seem to be the backbone for Mike behaving so abusively towards her. With one year left in school, Tiffany contemplates on running away from her pain and struggling relationship forever.
Produced By
Anthony T. Green
Directed By
Anthony T. Green
Cast
Mirynda Y. Jones, Gary T. Everett II, Rodney Richardson, Tamia Genia, Harriet Cammock, Sylvester Gurely Jr.
About the Crew
Last Words dives into real life situations and domestic violence. Originally a short, the trailer got so much positive feedback that filmmaker Anthony T. Green decided to make the film a feature. The Michigan Chronicle wrote an article about the buzz and its positive feedback from the community.
Anthony Green is a producer, director, and writer who has directed many shorts and shot commercials for Doritos and Arbys. He won an award at the Trinity international film festival and his recent feature, Last Words, was accepted at the Houston Black Film Festival, Trinity International Film Festival, Girls Don't Cry Film Festival and I See Awards where it won for Best Michigan Made Feature Film.
Tamia Genia is an actress known for I Declare War (2016), Closure (2016), and Count Time.
Arlisha Graves is an actress and director, known for Last Words (2017), Casted the web series (2018) and The Prey (2016).
Gallery