Rent or Buy Now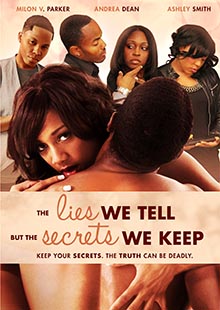 Lies We Tell but the Secrets We Keep
Own It April 22, 2014
Genre: Action
Runtime: 97 Minutes
UPC: MAV-5430, 824355543025
Storyline
Roni and Bri have fallen in a forbidden love, where lies and secrets lead to the end of their relationship. Bri tries desperately to move on and forget her past love with Roni. But, she's in for an unexpected surprise when secrets are revealed and her life is now a twisted love triangle with her past.
Directed By
Milon V. Parker
Cast
Milon V. Parker, Andrea Dean, Ashley Smith, Danielle Jones, Aaron Badie, Latroyce Usher, Lorraine Weatherspoon
About the Crew
Director/Star Milon V Parker wrote the book, The Lies We Tell, But the Secrets We Keep. The buzz created from this new movie is outstanding and has propelled DVD sales of the first movie.
She is an LGBT ICON. She has appeared in 9 films including Girls Like Us, released in October, 2013 from Maverick Entertainment.
Gallery