Rent or Buy Now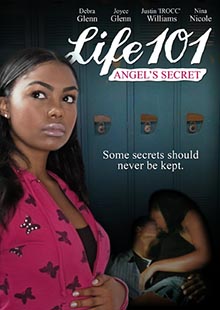 Life 101: Angel's Secret
Own It June 09, 2009
Genre: Drama
Runtime: 83 Minutes
UPC: MAV-5252, 824355525229
Storyline
Young, beautiful, and naive Angel soon realizes that sometimes the most dangerous place to be is in the bed of a lover. After one night with her boyfriend Angel is quickly caught in a whirlwind of uncontrollable events and unforeseeable consequences. As family and friends gather to support her, will she be able to share the truth before it is too late?
Cast
Debra Glenn, Joyce Glenn, Nina Nicole, Perry Henderson
About the Crew
Starring the extremely popular and sexy 'Glenn Twins' (Joyce Glenn and Debra Glenn)(www.myspace.com/glenntwins). The Glenn Twins can be seen on numerous music videos including: Bow Wow's 'Let's Get Down', G-Unit's 'Wanna Get to Know You', and R. Kelly's 'Playas Only.'.
The Life 101: Angel's Secret trailer has a five star rating on YouTube.
Life 101: Angel's Secret won 2nd place the Urban Media Film Festival in Atlanta.
Nina Nicole - Tyler Perry's What's Done In The Dark.
Justin 'IROCC' Williams -Fred Hammond's Christmas...Who Needs It.
Promoted on Facebook and Myspace.