Rent or Buy Now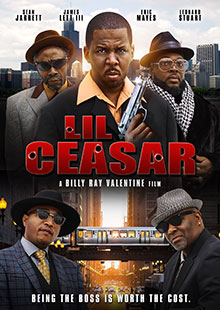 Lil Ceasar
Own It September 22, 2020
Genre: Crime, Drama
Runtime: 110 Minutes
UPC: MAV-5673, 824355567328
Storyline
Timothy Gibbs was born and raised in Chicago. in the early 70's his father was once the ruler of Harlem N.Y. and while making moves in Chicago, he met Timothy's mom. Growing up on Chicago's southside, Timothy had a rough upbringing, his mother was not there for him, he doesn't know his father, and the only real family he has is his uncle earl. But there's one person who looks after Timothy, and that's poppa Benny, who came up under Timothy's father when he would do business in Chicago, which in turn, poppa Benny raised Timothy's gangsta ways and when he is murdered by an enemy who wants to take over Benny's territory.
Produced By
Billy Ray Valentine
Directed By
Billy Ray Valentine
Cast
Sean Jarrett, James Lett III, Shanta' Renee Smith, Eric Mayes
About the Crew
Mark Anthony Mathews (Billy Ray Valentine) born and raised in Chicago, Illinois, started his career in the entertainment industry in 1986. It was music that inspired him to drive for his dream in the film industry. After 20 years of music, Mark began his film journey shooting music videos and sort films. In 2019 he shot and directed his first full length feature ""MAGIC"" which was released in March of 2020.
James Lett III is an actor known for film and web series such as Disconnected, #Pink Panties, and The Life of Chi.
Shanta Renee Smith is an actress, known for Magic (2019), A Hostile Nation (2019) and Friends, Lovers, Secrets (2019).
Eric Mayes is an actor and producer, known for A Lover for My Husband (2003), Magic (2020) and Cutting It Klose.