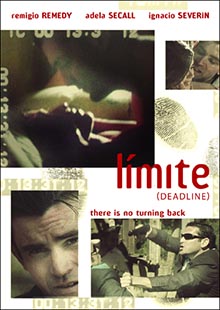 LÍmite
Own It September 16, 2008
Genre: Latino/Thriller
Runtime: 91 Minutes
UPC: MAV-5257, 8-24355-52572-4
Storyline
In an environment of political corruption, a counterfeiting money band runs unchallenged. But when a beautiful detective decides to investigate the origins of a falsified $100 bill she becomes trapped in the corruption. How deep does it go and who can she turn to when no one can be trusted?
Directed By
Nicolas Jullian
Cast
Remigio Remedy, Adela Secall, Ignacio Severin, Luis Dubo
About the Crew
Límite was met with excellent reviews at the Latin American Film Festival in Toulouse, France
Promoted on Facebook and Myspace
Luis Dubó-Has appeared in numerous Spanish sitcoms including: "Otra cara del espejo, La," "Simuladores, Los," "Cuento del tío, El" and "Tiempo final." Starred in the multi award winning film Coronación
Gallery
Gallery Images are Coming Soon.