Rent or Buy Now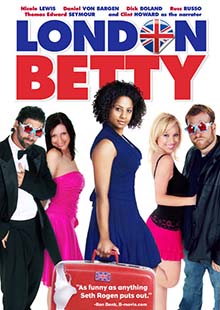 London Betty
Own It February 02, 2010
Genre: Comedy
Runtime: 80 Minutes
UPC: MAV-5337, 824355533729
Storyline
Betty has moved across the pond to become a real life American reporter, but when her first story assignment turns out to be just another fluff piece she begins to think twice about the move. Discouraged and looking for allies Betty forms an unlikely bond with the neighborhood thieves and together they set out to investigate the town's crooked Mayor. Betty might just get her first real news story, but she'll have to be in cahoots with thieves to get it.
Directed By
Thomas Edward Seymour
Cast
Nicole Lewis, Daniel Von Bargen, Thomas Edward Seymour, Dick Boland, Narrated by Clint Howard
About the Crew
Won Best Connecticut film at the Silk City Film Festival
Won Best Feature Film at the Accolade Film Competition.
Won the Underground Spirit Award at the New Haven Underground Film Festival.
Nicole Lewis - Broadway actress starred in Rent, Lennon, and the 2009 Tony Award winning revival of Hair; 'Mercy'.
Daniel von Bargen - 'Law & Order', 'Malcolm in the Middle', O Brother, Where Art Thou?, 'Seinfeld', G.I. Jane, Basic Instinct, Super Troopers.
Clint Howard- Won the Lifetime Achievement award at the MTV Movie Award. Has starred in Night at the Museum: Battle of the Smithsonian, Curious George 2: Follow That Monkey!, Frost/Nixon, How to Eat Fried Worms, Fun with Dick and Jane, Austin Powers: Goldmember, How the Grinch Stole Christmas, Edtv, The Waterboy, and Apollo 13.
Rachael Robbins- Appeared in 3 issues of Playboy's News Stand Specials: 'Natural Beauties' 'Sexy Girls Next Door' and 'Barefoot Beauties'.
'. . . passing up London Betty would be a big mistake'. (Filmsnobbery.com).
'An appealingly eccentric comic goulash chock full of unpredictable plot twists and over-the-top characters'. (Shock Cinema Magazine).
A quirky comedy about a band of small time thieves who will stop at nothing to save one of their own. . . no matter what crazy situation they get themselves into.