Rent or Buy Now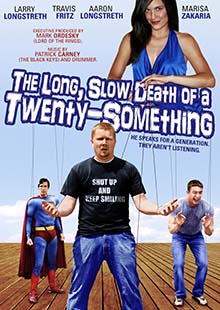 Long Slow Death of a Twenty-Something
Own It October 04, 2011
Genre: Comedy
Runtime: 73 Minutes
UPC: MAV-5380, 824355538021
Storyline
Ben Baker is a mediocre person at a mediocre job and spends most of his time drinking, smoking pot and playing video games and Dungeons & Dragons. All is well, until a rather unexpected thing happens to him and everyone he knows....the big '3-0'. Follow Ben as he goes through a series of hilarious coming-of-age adventures and awkward mishaps to find his sense of purpose in a world that is quickly passing him by.
Directed By
Larry Longstreth
Cast
Larry Longstreth, Aaron Longstreth, Travis Fritz, Marisa Zakaria, Christopher Dennis
About the Crew
Christopher Dennis - featured on cover of The Hollywood Reporter Summer 2011 Edition as the 'Hollywood Superman', CONFESSIONS OF A SUPERHERO, Jimmy Kimmel Show, Gene Simmons: Family Jewels.
Executive Producer Mark Ordesky - producer of THE LORD OF THE RINGS Trilogy and GOLDEN COMPASS.
Patrick Carney - One half of the 'Black Keys' provided the film's primary music with his secondary band 'Drummer'.
2011 Los Angeles International New Wave Film Festival - Honorable Mention Award.
Modern day CLERKS.
Gallery
Gallery Images are Coming Soon.