Rent or Buy Now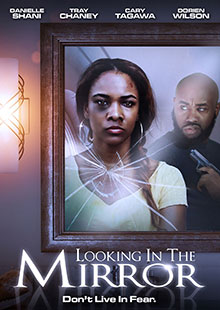 Looking in the Mirror
Own It October 12, 2021
Genre: Drama
Runtime: 72 Minutes
UPC: MAV-5718, 824355571820
Storyline
In life you have to play the hand you're dealt, and when faced with a lifetime of adversity, Roslyn Jones does just that. Based on a true story.
Produced By
James Hunter, Derrick Hammond, Milton Dorta
Directed By
James Hunter|Derrick Hammond
Cast
Danielle Shani, Tray Chaney, Cary Tagawa, Dorien Wilson
About the Crew
James C. Hunter is a director and producer known for The turnaround (2017), The Flea (2019), Undercover Consequences (2021), and Her Little Secret (2021).
Tray Chaney is an actor and producer known for HBOís The Wire (2002-2008), Lorenzo & Monica (2012), Saints and Sinners (2016-2021), and Secret Society (2021).
Dorien Wilson is an actor known for Sister, Sister (1994-1996), Meet the Parkers (1999-2004), Nickelodeonís Bella and the Bulldogs (2015-2016), and I Got the Hook Up 2 (2019).
Cary Tagawa is an actor known for Mortal Kombat (1995), Planet of the Apes (2001), Memoirs of a Geisha (2005), Hachi: A Dogís Tale (2009), and Amazonís The Man in the High Castle (20155-2018).