Rent or Buy Now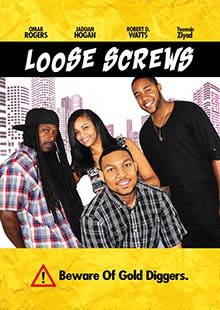 Loose Screws
Own It August 08, 2017
Genre: Romantic, Comedy
Runtime: 100 Minutes
UPC: MAV-5535, 824355553529
Storyline
When Cory gets put out for cheating he ends up living with his cousin Lance who just broke up with his gold digging girlfriend. Thinking they will be some female magnets the two can't get a decent date to save their lives until they find RIGHTMATCH.COM
Produced By
Omar Rogers and Jaduan Hogan
Cast
Omar Rogers, Jaduan Hogan, Rodney Perry, Robert D. Watts
About the Crew
Omar Rogers is an actor and director, known for Loose Screws (2016), Spooked (2017) and The Struggle (2017).
Rodney Perry is a writer and actor known for many films 'Johnson Family Vacation' (2004), 'Madea's Big Happy Family' (2011), 'Mr. Right' (2015), 'Conflict of Interest' (2017) and many more.
Donna Bey is an actress known for 'Dysfunctional' (2014), 'No Filter the Film' (2015), and 'Rabidus' (2016).
Darone Okolie is an actor known for 'Lila & Eve' (2015), 'The Last Punch' (2016), and 'Making Moves' (2017).
Gallery