Rent or Buy Now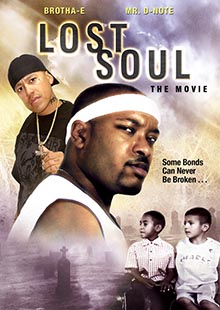 Lost Soul: The Movie
Own It March 20, 2007
Genre: Drama
Runtime: 80 Minutes
UPC: MAV-5239, 824355523928
Storyline
Lost Soul: The Movie' is a tale of two childhood friends growing up to be men in the wild streets of Sunny California. Sneak (Mr. D-Note) juggles keeping up with his boy Game (Brotha-E), while looking out for his mom and sister. Their friendship is tested when Sneak grows tired of living life shady. On the flipside, Game can't get enough of the fast life of kickin' with the ladies, chasin' paper, and the Hustle. Whose soul will be saved and whose soul will be lost as the two come to a fork in the road causing one man to lose and another to gain?
Directed By
Erikka Franklin
Cast
Ernesto "Brotha-E" Rubio, Don "Mr. D-Note" Franklin, Rubi Holguin, Leonard Holguin, Roshawnda Moultrie Eastwood and Demetra Pearson
About the Crew
A Provocative look at the life of two young men whose choices today, affect their lives in various ways. • The story of two childhood friends who grow up with different paths.
In the game of life there are winners and losers, Lost Soul will remind you that there is always a choice to make.