Rent or Buy Now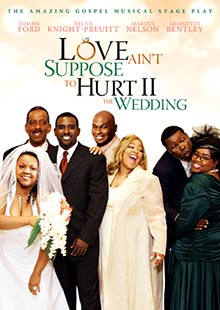 Love Ain't Suppose to Hurt II - The Wedding
Own It July 14, 2009
Genre: Gospel, Comedy
Runtime: 136 Minutes
UPC: MAV-5310, 824355531022
Storyline
Tracie has decided to take the plunge and walk down the aisle, but an unexpected accident causes her to face yet another issue from her past. Will her bible-toting, shoot from the hip, tell it like it is, aunt Shirley be able to shed some light on Tracie's situation; or will a secret from aunt Shirley's past cloud her judgment?
Directed By
Rickie Vermont
Cast
Tommy Ford, Marcus Nelson, Bridgette Bentley, Nei-Ce Knight-Preuitt, Rickie Vermont, Rory Darvel, Shanelle Solomon, Carey Durrell, Ax'nt
About the Crew
Live Gospel stage play
Tommy Ford- starred in 'Martin' with Martin Lawrence
Marcus Nelson from the Grammy-Nominated R&B Group Az-Yet
Bridgette Bentley from Oprah Winfrey's hit touring stage play The Color Purple
Gallery
Gallery Images are Coming Soon.