Rent or Buy Now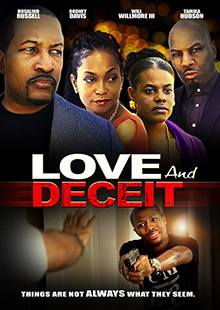 Love and Deceit
Own It January 26, 2021
Genre: Thriller
Runtime: 149 Minutes
UPC: MAV-5675, 824355567526
Storyline
A young woman thought she married the perfect man but soon finds out that he is not who she thought he was... Things are not always what they seem.
Produced By
Gary Tucker, Leta Fennell, Rebecca Luis
Directed By
Joseph Johnson & Warren A. Rhodes
Cast
Rosalind Russell, Rodney Davis, Will Wilmore III, Tamika Hudson
About the Crew
Joseph Johnson is a director/writer known for East New York (2005), In My Father's Eyes (2010), and Love and Deceit (2021).
Rosalind Russell is an actress and producer, known for Storm (2014), Don't Judge Me! (2016) and Employee of the Year (2017).
Will Wilmore III is an actor and executive, known for Kurbaan (2009), Why I don't Date (2014), 313 Detectives (2019) and The Calling (2019).