Rent or Buy Now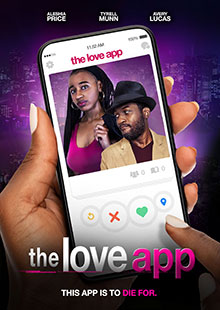 The Love App
Own It February 07, 2023
Genre: Romance, Thriller
Runtime: 75 Minutes
UPC: MAV-5892, 824355589221
Storyline
Rachel is a promising young woman getting over a recent breakup while her friend signs her up for a dating app unbeknownst to her. She is presented three blind dates to choose from. Little does she know, one of them is a serial killer.
Produced By
Marquand Ragland, Matthew Smith, Eric Hyunh, Lawrence Moore
Directed By
Amiri Thompson
Cast
Aleshia Price, Tyrell Munn, Avery Lucas
About the Crew
Marquand Ragland is a director, cinematographer, and producer known for Take me to Amazing (2022), The Christmas Spirit (2022), and Monogamish (2023).
Amiri Thompson is an actor, writer, and director known for Drowning (2016), Crossover (2020), and The Christmas Spirit (2022).
Tyrell Munn is an actor known for Kingdom Men (2020), Her Happy Place (2020), and Take Me to Amazing (2022).