Rent or Buy Now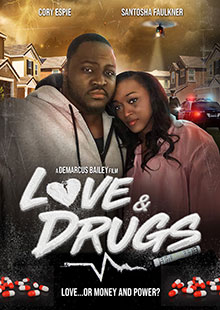 Love & Drugs
Own It January 22, 2019
Genre: Thriller
Runtime: 91 Minutes
UPC: MAV-5575, 824355557527
Storyline
Marc was just a young guy in love, but when the love of his life humiliated him, he turned to a life of crime to earn respect. That was until the day she came back into his life. Now will she love the man that he became, or does he have to change who he is. Marc has the ultimate choice: Love or Drugs.
Produced By
Demarcus Bailey & Roshundra Robinson Bailey
Directed By
Demarcus Bailey
Cast
Cory Espie, Santosha Faulkner, Kenny Gardner, Carl Brown
About the Crew
Demarcus Bailey is a playwright turned filmmaker known for plays such as 'I am in Love With Your Man', 'How to Love' and 'One Mama'.
Kenny Gardner is an actor, known for The Cliff (2016), Genesis (2016), and Stolen Virginity (2018).
Cory Espie is an actor, known for Carter High (2015), 57 (2018) and Bruthas 321 (2018).
Vernon Snoop Robinson is a director, producer, and actor known for She's Not Our Sister (2011), Deceptions of Love (2013), and Her Eyez (2014).
Gallery