Rent or Buy Now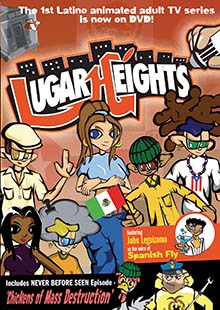 Lugar Heights
Own It November 09, 2004
Genre: Comedy
Runtime: 109 Minutes
UPC: DVD: MAV-5090, DVD: 824355509021
Storyline
Exclusive Adult Animated Series, Including One NEVER BEFORE SEEN Episode "Chickens of Mass Destruction". Appearing as the special guest voice and endoresd by John Leguizamo!.

"Novela" (Episode 1)
Find out what happens when the town's loco Santero concocts a diabolical TV remote control that transports Q-Ba and the gang into his mom's favorite soap opera The Shameless and the Stupid. Will the gang be able to save Q-Ba, or will they all be trapped inside Spanish TV shows forever?

"Holy Guacamole" (Episode 2)
When China gets selected to appear on Lugar Heights' very own reality dating show, !Adios Papi! find out if she meets the papichulo of her dreams or the loser-of-her-life. Featuring a special guest appearance by John Leguizamo as the voice of, Spanish Fly, the tactless taxi driver who chauffeurs China and her dream dates.

"Summer Skool" (Episode 3)
When the gang mysteriously flunks Spanish 101 and have to go to summer school, they're faced with uncovering a sinister 50-year old curse on the Latinos of Lugar Heights High School. In the scariest episode yet, watch the gang work together to restore honor to their family names by proving they didn't fail Spanish.

"Mistaken Identity" (Episode 4)
When the gang's favorite rap artist, Big Toe, is sent to jail for allegedly robbing the Lugar Heights bank, China holds a protest rally to free him. In a strange twist of events, it's up to Manos to confront the notorious gang, Los Blingbleros, to uncover the truth and free Big Toe.

"Invasion" (Episode 5)
Aliens from outer space land in Lugar Heights to save the town from the devious plan of Spanish TV star, Don Nabisco, seeking to destroy the Spanish language. It's up to the gang to carry out the alien's counter attack to save Spanish before Don Nabisco can abandon his roots and cross-over to English TV.

Never Before Seen Epside! "Chickens Of Mass Destruction" (Episode 6)
When virus-infected "Chickens of Mass Destruction" land on the shores of Lugar Heights, President Mush declares a national state of emergency. The gang prepares for the worst, as their friend and intrepid TV news reporter China Lopez reports live as events unfold.
Directed By
Piragua Productions Inc.
Cast
Voices: John Leguizamo, Angelo Lozada, Caridad De La Luz, Eric Nieves, Marilyn Torres, David Chitel , Christopher Silvestre, Allan Suarez, Juan Von Michaelangelo
About the Crew
Endorsed and Narrated by Latin Mega Star, John Leguizamo.
Extensive Media campaign across the US including Consumer magazines and College Tours.
Direct Mail Push to Latin 2nd and 3rd Generation Core Audience of over 100,000
National Branding Programs with Major Cellular Telephone Company
Major Internet Campaign and Press Tour
Gallery
Gallery Images are Coming Soon.