Rent or Buy Now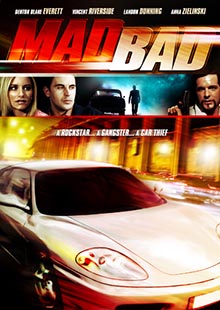 Mad Bad
Own It July 15, 2008
Genre: Action, Thriller
Runtime: 90 Minutes
UPC: MAV-5272, 824355527223
Storyline
An ex-con tries to rebuild his life and repair his relationship with his sister, a rising rockstar. To support her, he turns to crime to secretly fund her career. Just when he seems to find vindication, his past comes to confront him in a bloody show down.
Cast
Denton Blane Everett, Landon Dunning, Vincent Riverside, Terry Gamble, Anna Zielinski, Richard Folmer
About the Crew
Won Grand Jury Prize at the 2006 New York international independent Film and Video Festival (LA Festival)
Vincent Riverside (The Masters of Disguise with Dana Carvey)
Terry Gamble (Hollow's End and Beautiful Country starring Nick Nolte)
Jon Keeyes directed American Nightmare, Suburban Nightmare, and Living & Dying
Ray Crockett, two time Super Bowl winner with the Denver Broncos makes a cameo appearances as himself
'....one of the best independent movies and opening of any film in 2006...you'd think this was a multi-million dollar film and it carries you through right to the end'.
Mad Bad: The Fast & The Furious meets The Professional
Gallery
Gallery Images are Coming Soon.