Rent or Buy Now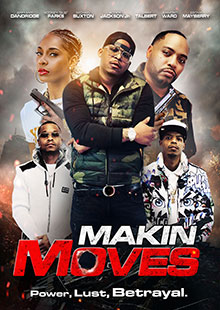 Makin Moves
Own It June 21, 2022
Genre: Action, Drama
Runtime: 119 Minutes
UPC: MAV-5811, 824355581126
Storyline
No matter how hard you try to make it out the streets, something always tries to pull you back in.
Produced By
Michael Buxton, Jerry Talbert
Directed By
Nuri Bauswell, Michael Buxton, Jerry Talbert
Cast
Apiffany Dandridge, Rodney "Bub" Parks, Michael Buxton, Roger Jackson Jr., Jerry Talbert, Jermont Ward, Ebony Mayberry
About the Crew
Jerry Talbert born and raised in Grand Rapids Mi. He's a known author/movie script writer, director/actor, coffee table designer and clothing designer.
Kenneth Apiffany Dandridge is a Grand Rapids MI native. His professional status includes writing poetry, making music, spending time with family, traveling, and cooking.
Michael Buxton, "Ton Of Bux" Born and Raised In Grand Rapids, Michigan. During the 90s Michael was involved in the street life which led to a 9-72yr prison sentence in 2000, after being released in 2009 Michael became a Super Entrepreneur. Owner of Bux Cutz LLC, Franchiser of Load A Spud Kalamazoo & Load A Spud Evanston, Co-Owner Load A Spud Madison, Co- Owner Load A Spud North, Co-Owner Load A Chicago. Founder CEO & Owner TMG Promotions Concerts & Events. Co-Owner B&G Housing, Commercial Property & Cottages. Michael enjoys spending time with his children, traveling the world, and helping his family & small circle of friends become successful.