Rent or Buy Now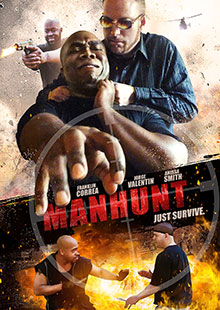 Manhunt
Own It January 14, 2020
Genre: Action
Runtime: 71 Minutes
UPC: MAV-5626, 824355562620
Storyline
A martial artist/survivalist must play a game of cat-and-mouse with a maniacal sadistic Man by the name of Santos and survive against five killers in order to save his life as well as his girlfriends.
Produced By
Robert Parham, Franklin Correa, Jorge Valentin, Dayveonne Bussey, John Piekos, Legend Damion Simmons, Seneca Robinson
Directed By
Franklin Correa
Cast
Franklin Correa, Jorge Valentin, Anissa Smith
About the Crew
Franklin Correa is an actor, director, and producer specializing in martial arts and has done many films such as Thug (2017), Lyco (2018), and Blueprint (2019).
Dayveonne Bussey is a producer and actor, known for The Many Saints of Newark (2020), Lyco (2018) and Body Jumpers Resurrection (2016).
Anissa Smith is an actress, known for Forgotten Kingdom (2014), A Wound in Time (2019) and Forgotten Kingdom: Genesis (2015).
Gallery
Gallery Images are Coming Soon.